Tameside Council has worked with Greenside Primary School and the School Sports Partnership to produce 'Pavement Games' designed to encourage more children and families to walk to school more often.
Inspired by the past, 180 pupils from the school created innovative designs in chalk for pavement games that they would like to play on. The council turned the winning designs into permanent games on the surrounding residential streets.
Installing engaging and fun games on routes to school, co-created with the children themselves, will encourage more families to use active travel modes to get to school, with parents proud to see their children's work and children seeing the school journey as a chance to play.
Cllr Leanne Feeley, Tameside Council 's Executive Member for Lifelong Learning and Culture, said: "The children have created some fantastic, imaginative designs that are really fun to play on. I hope they will be well used and encourage more children and families to walk to school more often and be more active."
Cllr Eleanor Wills, Tameside Council's Executive Member for Population Health, said: "Pavement Games focus on movement and play giving children an enjoyable way of keeping fit and active. It's great for community spirit, health and well-being and also the environment by encouraging active travel journeys to school rather than using polluting vehicles.'
Both councillors visited the school to see the designs and thank everyone involved for creating the games and bringing them to life. The initiative was inspired by children taking to the streets during the pandemic to create chalk challenges that encouraged people to move more.
The school's PE Lead Michael Ellis challenged pupils to create pavement games that focused on movement and play. The children were given chalk to test out their ideas in the playground and were then tasked with refining their design and drawing it. The locations were chosen based on a parents' survey and their routes to school, with council engineers assessing their safety and suitability.
The school is also encouraging parents to organise walking buses and more active routes to school. The school would like parents to send pictures and videos of their children playing on the Pavement Games to the Twitter account @GreensideSport or email to pe@greenside.tameside.sch.uk.
A video the school has created to show the project can be viewed at https://www.youtube.com/channel/UCKXqN4NfhrLJMhWsCKPzXnw/featured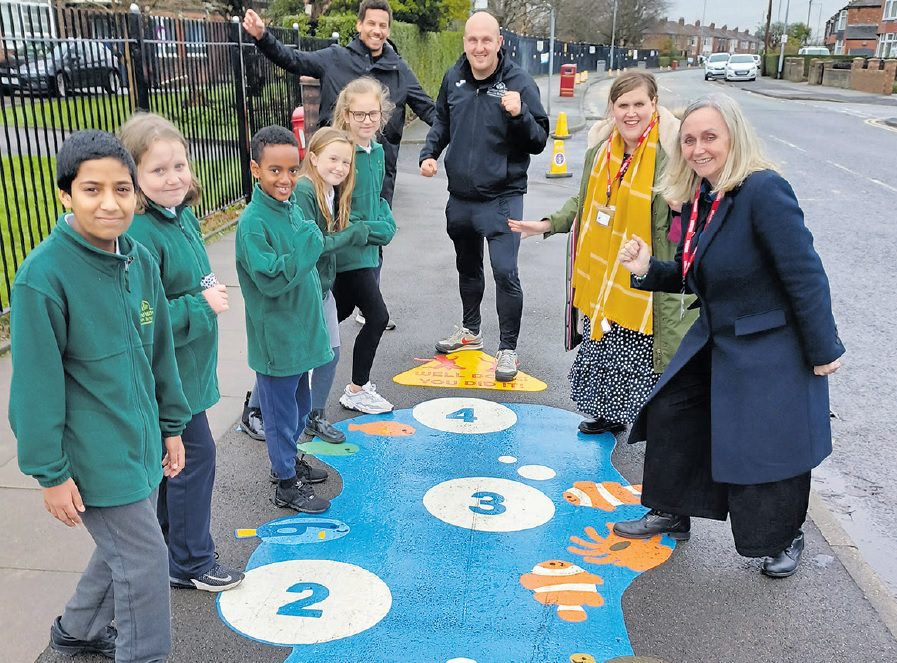 Above, Greenside Primary School pupils show, from right, Cllr Leanne Feeley, Cllr Eleanor Wills, PE Lead Michael Ellis and Population Health officer Robert Sharpe one of the
Pavement Games.
Credit – Tameside Reporter